Forward Counseling therapists utilize art therapy and play therapy techniques for children and adolescents in counseling. Play is a child's natural language. Our therapists utilize this evidenced based intervention to address focus and concentration issues, behavior issues, mood instability, and trauma resolution.
We use a family systems approach when working with children to resolve a range of issues such as:
Anxiety

Academic Difficulties

Bullying

Grief and Loss

Relationships

Family Conflicts

Abuse and Trauma

Nightmares & Night Terror

Behavior Issues
Goals of Play and Art Therapy:
Improved self confidence & self esteem

Improved communication and behavior

Stimulation of development

Reduction in Problemaic Symptoms
Child Therapy is Family Therapy
The family systems theory is a theory introduced by Dr. Murray Bowen that suggests that individuals cannot be understood in isolation from one another, but rather as a part of their family, as the family is an emotional unit. Families are systems of interconnected and interdependent individuals, none of whom can be understood in isolation from the system.
According to Bowen, a family is a system in which each member had a role to play and rules to respect. Members of the system are expected to respond to each other in a certain way according to their role, which is determined by relationship agreements. Within the boundaries of the system, patterns develop as certain family member's behavior is caused by and causes other family member's behaviors in predictable ways. Maintaining the same pattern of behaviors within a system may lead to balance in the family system, but also to dysfunction. For example, if a husband is depressive and cannot pull himself together, the wife may need to take up more responsibilities to pick up the slack. The change in roles may maintain the stability in the relationship, but it may also push the family towards a different equilibrium. This new equilibrium may lead to dysfunction as the wife may not be able to maintain this overachieving role over a long period of time.
There are eight interlocking concepts in Dr. Bowen's theory:
Triangles: The smallest stable relationship system. Triangles usually have one side in conflict and two sides in harmony, contributing to the development of clinical problems.

Differentiation of self: The variance in individuals in their susceptibility to depend on others for acceptance and approval.

Nuclear family emotional system: The four relationship patterns that define where problems may develop in a family.
- Marital conflict
- Dysfunction in one spouse
- Impairment of one or more children
- Emotional distance

Family projection process: The transmission of emotional problems from a parent to a child.

Multigenerational transmission process: The transmission of small differences in the levels of differentiation between parents and their children.

Emotional cutoff: The act of reducing or cutting off emotional contact with family as a way managing unresolved emotional issues.

Sibling position: The impact of sibling position on development and behavior.

Societal emotional process: The emotional system governs behavior on a societal level, promoting both progressive and regressive periods in a society.
How Family Systems therapy works
One of the best ways to begin therapy and to gain understanding of how the emotional system operates in your family system is to put together your family genogram. Studying your own patterns of behavior, and how they relate to those of your multigenerational family, reveals new and more effective options for solving problems and for changing your response to the automatic role you are expected to play. By entering key information, such as names of family members, key life events, emotional relationships, and social relationships, the user can easily create a multi-generational genogram of their family system or of their patient's family system. The genogram becomes a graphical picture of the family, helping the user to identify patterns of behavior and dysfunctions that need to be addressed.
Your family systems therapist will help you identify and resolve unhealthy patterns. Learning new skills, frequently communication skills, are part of the process to a healthier family. At Forward Counseling, we believe that a healthy family produces healthy children. A suffering child is not the problem, but a symptom of the problem.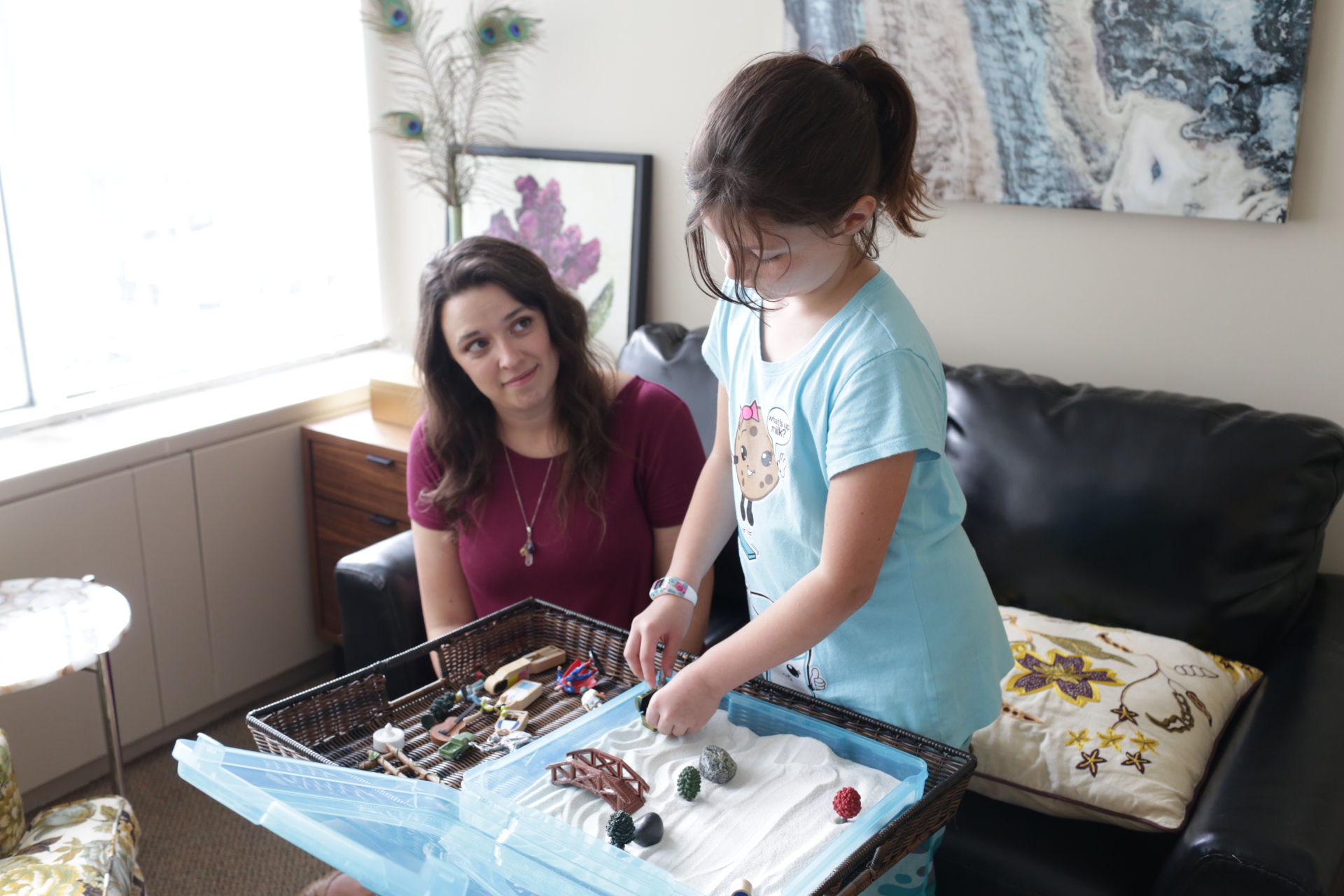 Steps to Seek and Begin Therapy

1. Initial Inquiry or Referral: This may be a phone call or request off our website in which the parent and one of our Office Managers will gather initial information, such as personal contact information, description of primary concern, and insurance information. At this time assessment or initial intake appointment is typically scheduled.

2. Initial Assessment and Intake: This first session will be a session with the adult caregivers of the child only. During this session, caregivers will meet their child's therapist and provide the therapist with a more extensive background, history, and goals for the family. At the end of this session, your therapist will recommend services for your child and family to address the concerns that brought you all to our practice and will schedule another appointment based on the assessment.

3. Service Delivery: Counseling services for children and adolescents are provided using a Family Systems Based Approach. Therapeutic interventions used at Forward Counseling include: Gottman Informed Therapy, Collaborative Problem Solving, Client- Centered Theories, CBT and DBT strategies, Art Therapy, Expressive Arts based interventions, Yoga, Play Therapy, Psychological Testing, Sensory Testing, Medical Services, Biofeedback, Mindfulness Based Emotion Processing and Rapid Trauma Resolution Techniques. Since we use a Family Systems Approach, we will suggest and offer services for the whole family. Parents or caregivers are an important part of therapy and if the client is a minor, they will almost always be participants in the therapeutic process. Sessions may include individual counseling, parent/child counseling, parent coaching and consultation, family therapy, group therapy, or couples therapy.

What To Expect During Sessions

Sessions with children and families are framed using techniques from developmental, client-centered and play-based models of therapy. Strategies are altered and chosen to compliment the needs of the individual and family.

Sessions are scheduled as either individual, family, or couples counseling. Individual sessions are 45 minutes, Group Therapy is generally 60 minutes. Couples Therapy is 45-60 minutes and Family Therapy is 45-90 minutes per session.
For more information about Play Therapy, watch this short video:
Adolescent Therapy
From age 12 until 25 our brains and bodies undergo significant change. As with any change, there is stress and resistance. Tension in families often increases when there is a teenager at home.
With change comes discomfort. Forward Counseling offers individual counseling services to adolescents as a way to offer them support in a non-threatening environment. Adolescents can find a supportive ear to help them transition this difficult time. Forward Counseling also offers family counseling to help parents understand the challenge of maintaining stability in the sea of parenting an adolescent.
Our Philosophy regarding adolescent therapy:
We are supportive to our adolescent clients.

We teach adolescents how to cope and how to get their needs met.

We are nonjudgmental, but can and will use gentle confrontation when appropriate.

Our goal is to reduce the adolescent's shame and frustration by teaching communication and coping skills.

We teach and model these skills: survival, thriving, resourcefulness, resilience, and nonviolent communication.

We help adolescents identity their triggers and learn coping skills.

All sexual matters are approached in a non-judgmental manner. All questions from client will be answered openly and honestly, unless personal disclosure from therapist is requested.

We utilize open, honest role modeling.

Parents will be involved through family therapy sessions.
Our Method
We use a family systems based, problem-solving, person-centered approach to confront a range of issues such as:
○ Anxiety
○ Academic Difficulties
○ Bullying
○ Grief and Loss
○ Relationships
○ Family Conflicts
○ Substance abuse and addiction
○ Trauma & Abuse
○ Self-Confidence Issues
○ Aggression & Self Harm
We recognize that people are doing the best they can with their current skill set. At Forward Counseling, we teach adolescents and parents how to manage and cope with their stressors in healthy ways. The approach is tailored to each person or families needs.
Therapy techniques include:
Cognitive behavior therapy

Dialectical behavior therapy

Art therapy

Sand Tray Therapy

Play therapy

Collaborative Problem Solving

Solution-focused brief therapy

Family therapy

Crisis intervention

Pet-assisted therapy

Group Therapy